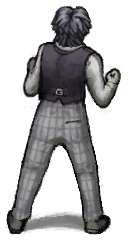 BYF
DMS ok for moots , i go ia on my main sometimes . im selective fb. i dont allow reposts of my art with or without credit ! my interests shift alot and i make oc/canon ships. I do have some canon/canon ships but i rarely draw for them... i use she/her for shu n other charas !!
DNI (°ㅂ°╬)
basic dni criteria , hate on yume , proship , kaeluc shipper , yaribu supporters, support bi/pan lesbians , mcyt, dream likers, do not support neo pronouns. below 12 over 20 unless i follow first.
interests !

: fate/typemoon, enstars, tokyorev, hq, hypmic, yttd, twst, alchemstars , fireforce,milgram , takt op, paradox live, mairuma, servamp,chainsaw man, indie horror games ,psjk

favs ♡ !

: vil ,madara ,nagisa, shu, ibara ,barghest, gawain, arjuna, caren(fgo), , , balam, yuzuru, mayoi, kingprotea, voyager, kijyo koyo, sen no rikyu/komahime, toma, kadoc/anastasia(theyre a pair!!), hokusai, romani, charon, rindou.. ect
extra. !! : ♡(>ᴗ•) @ yuyu /qpp

ships i mightt talk abt!!
enstars; kurorinne, leonaru, narumika , ritsuizu , himemayo, himetatsu , rinnhime(niki) , nikimayo, narumao
twst; azurid , azujami , leoide , leorook , adeuce , mallekei , jeikei ,mallejeikei , acebek.